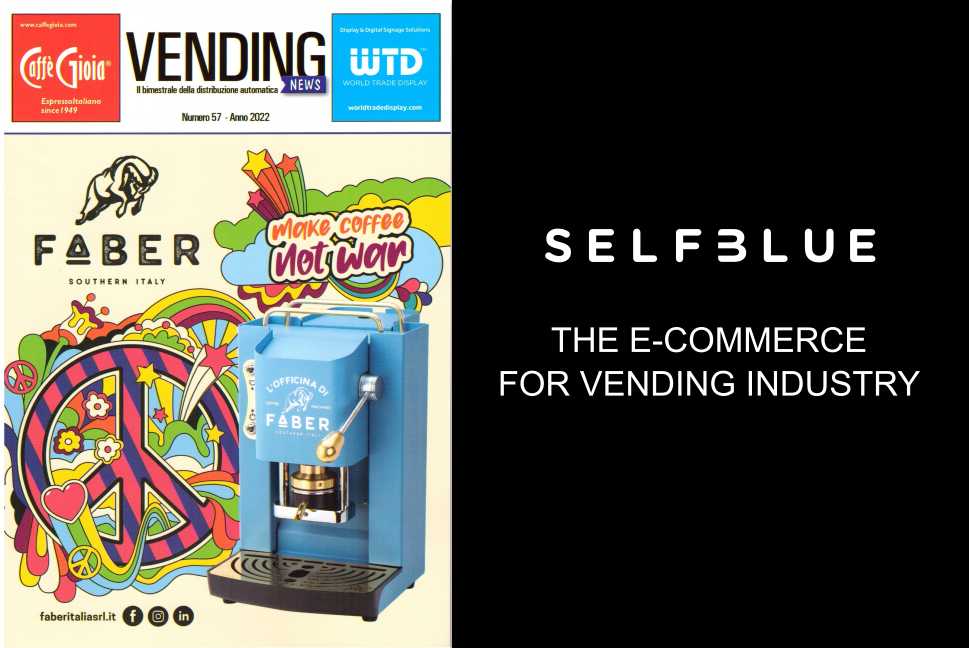 "Faithful to its idea of ​​continuous innovation, even in times of covid Peachwire has introduced many innovations on its SELFBLUE solution, the eCommerce platform and mobile wallet for vending".
Thus begins the article published in issue 57/2022 of Vending News and titled "Selfblue, the ecommerce for vending". The article was also relaunched in the usual daily Vending News newsletter
Working as usual with focus groups of consumers, vending operators and machines manufacturers, Peachwire has updated the SELFBLUE app with a new UI design and a new user experience of great fluidity.
On the "partnership with operators" front, Peachwire has created a version of SELFBLUE for Rhea Vendors called RHEAMOTE. With this, in addition to paying for the drinks, the product is selected directly from the app, thanks to a layout that reproduces that of the specific Rhea vending machine. This feature, released in covid times to make the coffee break safe, is also meeting the favor of consumers for its extraordinary practicality.
Another example of "partnership with operators" is the creation, together with DIA Vending, of the SPEAK module which, through the app, informs consumers about the quality of the products: composition, expiry date, calories, quality, etc.
The strength of SELFBLUE naturally remains the cloud platform through which you can implement a true eCommerce strategy with a very wide set of promotions: cash prizes, loyalty cards, advertising for new products on sale, money exchange, communications and so on. The extraction of sell-out data is also being planned, which can boost the assortment and sales through collaboration between the players in the supply chain, from category leaders in the Brand Industry to Operators.
Finally, the launch of the "Master" and "Telemetry" versions of SELFBLUE is now imminent. We are in the final stages of a new device that will function as an Executive / MDB master with optional telemetry. The master system will have incorporated the SELFBLUE wallet and will present new options that are a first for vending.